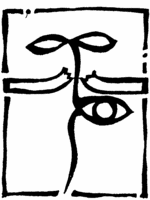 Welcome to the NewsLog or Blog of Heiner Benking. A kaleidoscope of insights and impulses collected first in the Seeds of Change Viewsletter of the Club of Budapest in 1995 and continually updated ever since.
Since some years available for broader distribution and comments - enjoy, and come again !

People to Watch:
Anthony Judge
Flemming Funch
Peter Jones
Alexander Christakis
quergeist



WHAT IS HOT?

GLOBAL SUSTAINABILITY EDUCATION
Conference Program

Berlin "Towards a Global, Embodied Covenant"

Re-inventing Democracy

Dialog among Civilizations - Dialog towards Unity in Diversity

Dialogues and Conversations - Participation and Moderation/Mediation: Ways and Means towards Re-inventing Democracy and Good-Governance

Positions and Identities in Global Contexts: Awareness of Self and Others with me, you, we, they and "others" models

Flatlands & Deeplands - a page about maps and models and Earth Literacy

Towards one Possible Global Embodied Covenant: Models, - not just Systems, Signs, Words and Images - Interdisciplinary Conference 2004: The Evolution of World Order - EWOC

Using Maps and Models, SuperSigns and SuperStructures - CODATA 2005

Granularity, Topicality, and Generalization of Information - Reflections about maps and models, orienting generalizations and their possible pragmatic and ethical implications and challenges, CODATA 2005


Oikos-Ecumene-Ecodomy - contribution to a conference on space and sacred spaces. The proposal to share a World House or House of Eyes as part of a cognitive panorama

Panoptic, the need to see big pictures on common jointly explored and discussed schemas or frames


*

I was asked for kick-start / short access-keys to my BLOG entries or central concepts, sites I often use or URLs I often link to. Here we go:

oikos-ecumene-ecudomy
systems-encyclopedia-new-terms
bamberg2007
menuhin
good-news
dropping-knowledge
sharing-action-wisdom
lovers-of-democracy
problematique
wir-lernen-sprechen
traumland-dialog
earth-day
systemic-dialogues
peace-roundtables
handelsblatt-neue-schulen-22-2-06
dialog-groupforms
cultures-generations-dialog
chance2000
bull-eyes
bpb-spielmethoden
seeds-of-change
rubiks-cube
meta-paradigm
magic-roundtable
higher-education
grand-challenges
global-covenant
earth-literacy
cognitive-panorama
ROBUST PATHS - AFRICA BEYOND POVDERTY
OPTICS OF ETHICS

TU TU WAS - Zusammenhaenge begreifen
FAW_NEWSLETTER
governance / 7 points
12 these education - LIFE IS TOO FLAT
WORKPLACES OF MIND
BOHM DIALOGUES


SIDE EVENTS
AIZU-Realities-landscape
HOUSE OF EYES
EXTENSIONS - Medical-Scientific Network /
Asilomar - sharing Voices/Spaces

BLOG


ENCYCLOPEDIA
see: ENTRIES / TERMS:
COGNITIVE PANORAMA 1) - 2)
COGNITIVE SPACES 1)
ECO-CUBE/KNOW MAP 1) - 2) - 3)
MAP (Mental) 2) - 3)
MAP TERRITORY RELATION 2) - 3)
MAPPING 2)
METAPHORIC FRAMEWORK 1) - 2) - 4)
METAPHORS (Classes of) 2)
MULTI-PERSPECTIVISM 1) - 2) - 4)
PANORAMA OF UNDERSTANDING 1) - 2)
PANORAMA THINKING 1) - 2)

ADD:
IID - Creativity & Cognition,Loughborough **
BLOG
BLOG
BLOG
BLOGBLOGBLOG
BLOG




A Quote I like:


"Seek wisdom, not knowledge. Knowledge is of the past, wisdom is of the future." (Lumbee)






1 Sep 2015 @ 19:32
Friday a full week on education and media, Check "digital turn". [link]
here are some more links for tweeting and maybe even to register, last minute:

THIS IS WORK IN PROGRESS - and a fist time, as after 400 entries in this blog over the years, I will not report the "as was" - but my way towards the next event, even maybe inviting for some side-events, maybe here...: General Thinkers events.

I am presenting on Saturday in a Pecha Kucha: https://ecber15.educamps.org/sponsoren/ I presently have only slides in English - and every minute and word counts in a "pitch" - I have to polish the content and my German..... (But here are some slides from 4 weeks ago: Herrenhausen It was for another topic and audience, but you get the idea - at least of a few of my 6 minutes (on the mountain top "sticking my neck out"...

My preliminary title for Saturday evening: WECKRUF: Was kommt als nächster "Turn"? It is about technological, scientific, societal, cultural "turns" and I will ask who is at the bridge, and if there are maps and directions ..... for future Education, Media, Policymaking, and more....

enjoy and keep in touch as I will update during the next days... <>





27 Aug 2015 @ 13:11
today I attended the IFA pre-press-event to see what the "Partner of the Future" has in store and in the evening join again a meet-up, this time with an exciting title: Future: Framework, Fantasy or Fate?

In both cases I remember that there is no Future !! There is only the plural,futures! and we have to design these futures !!
Hearing here at the IFA: <<"Design is the Product" - Das Design ist das Produkt" - "Successful Business Models are well designed" - Erfolgreiche Geschäftsmodelle sind gut gestaltet>> makes me wonder. I know about funtions, features, benefits as we called FFB long ago, maybe also add design. But such oversimplifications look very misleading, and when we hear that 30% exchange a functioning product with a product with a little more energy efficiency, ignoring the life-cycle of the product and even Cradle to Cradle - C2C or murks. Maybe Futures are more and more intangible and unreliable? eras of manipulations, deceptions and marketing hype (words without meaning and clear context/referents. See the German word Plastic Words: Worthülsen .....

DIGITAL TURN - some thoughts...
I am in the middle of preparing a "pitch" in an "edu pecha kucha" event next week. That is why I wonder about the digital-hype. I recall the "canyon of coded and non-coded data" and what people thought around digital Futures - 30 years ago, earlier and after that time: photokina 1985 (digial photography), WCGA 1985 (infographics), ...

see more in the making - check below: More >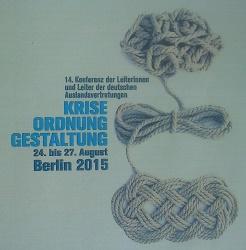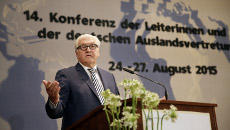 25 Aug 2015 @ 11:56
I am attending the press-open parts of the week for foreign representations of Germany overseas. Not only to meet some old and new people, and get latest trends, but to check out the very special title of this years event.

Order/Frames, Design/Gestaltung and not only Chaos and Crisis, are very central in this blog. Check the website [link] the conference [link] - and the opening by Steinmeier [link]

I am presently preparing a Pecha Kucha "pitch" the focus on Order, Turns, Media, Education,... for next week.
Chaos/Crisis - Order/Frames - Gestaltung/Design: You see the spectrum of meaning [link], the spaces between the words and concepts. Maybe check in this blog: [link]
and come back, I will add the link here: ****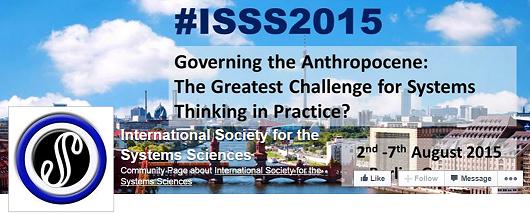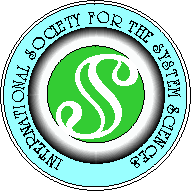 8 Aug 2015 @ 08:18
This week was again super-intense. International Systems Scientist gathered in Berlin for their 59th annual conference. I was around such gatherings in 1996, 1998, 2004 and happy to know some people of this "crowd".
As from my side all is published long ago I was pleased to attend the "high level" pre-conference in Herrenhausen, see last week, [link] and so had the time to remember, revisit, meet participants and see the "state of the arts" of SYSTEMS SCIENCES today.

Governing the Anthropocene: the greatest challenge for systems thinking in practice? [link] #ISSS2015 [link]

The issue/title is very ambitious, and so are many of the participants. I had intense exchanges like 20/7 - so quite a busy week. Check the programme, Visualisations by Patricia, Videos from Peter, and the next gathering in Boulder (and India) next year.

My conclusions: I will put my 15 minutes from Herrenhausen into some VIDEO Clips and I finally need to write a book one day. All is works (also of others) need common frames ! I was pleased that I heard the word Superstructure many times in the last look-out synopsis session. Let us see if we come to the Plural of Superstructure - so something we can use to connect the "dots" of Supersystems....
And I also agreed to make a GeneralThinkers gathering [link] in Berlin asap. so we can review the outcomes of the ISSS from another position with other perspectives....

I spoke much about the history of the ISSS and General Geography, General Model, and General Systems Theories and how to add "Cum Praxi" - not only in Herrenhausen.... More >




2 Aug 2015 @ 02:50
yesterday we revisited as announced the "ON THE EDGE" exhibition. See:
[link]
we had to do some VIDEO takes with Alexander Christakis in another "AGORA setting" stay tuned... busy days - as Alexco need to leave this beautiful Berlin before the ISSS unfortunately - but priorities in life and in general matter...
Highlight beside Alecos lecture were the films from Maria.... stay tuned....

Maria, who is Maria!? maybe check regarding our topic this event 5 years ago about our themes and Democratic R[E]volution, as it was moderated by Maria Kakoulaki https://sites.google.com/site/21stcenturyagora/home/connecting_dots_and_-spaces
[link] now published with the OAC and COUNCIL of CHURCHES in some environments...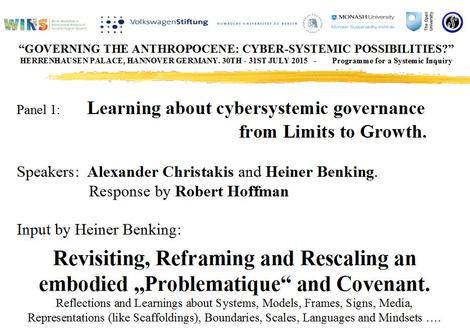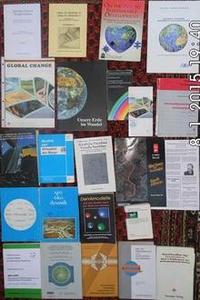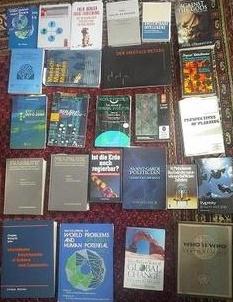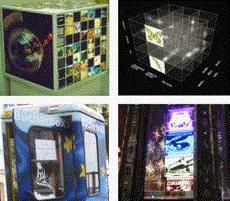 31 Jul 2015 @ 08:59
NOTES FROM THE PALACE: Two days in Herrenhausen in Hannover are very exhausting - but it is the place of Leibniz, see Theoria cum Praxi see "Duty and Insight" a few weeks ago. [link]

Organized by a broad range of organisation and financed the Volkswagen Foundation - I hope I find an online programme somewhere... meanwhile check: [link]
It is a pre-event for the ISSS next week: Governing the Anthropocene: the greatest challenge for systems thinking in practice? [link]
Organized as a systemic inquiry bringing together invited speakers, delegated form reknown international organisations, scholars and writers, and postgrad and doctoral researchers/students.

Check this announcement: "'Governing the Anthropocene: Cyber-systemic possibilities'" [link]

I am part of panel 1 and decided to put my slides online. [link] More >




7 Jul 2015 @ 12:36
There is a big question mark around the Symposium: SPP 1689 Climate Engineering Research Conference [link] going on until Friday July 7-10 in the German Academy of Sciences BBAW: [link] see also News on the topic: [link]

We will have a week to prepare for next weeks policy sessions and what kind of new research and action should be pushed with highest priority. They are talking here about "negative emissions" when people in the street might better understand "storage" and propose "vapourware" futures. I will CC Jerome and the Millennium Project next to see what is really "in the air" or future research policies, and how safe and reliable the schemes presented here are....

Me I feel we should go onto Natural Carbon Storage, discuss what kind of "carbon" we are talking about, ....
We proposed projects around our UN-ECOSOC efforts [link]
long ago. Solutions like Terra Preta/BioChar, another solution is presented here by the ReefFormers ....(PDF) [link]
a project I covered earlier: in Kiel OCEAN FUTURES: [link] and Sofia Blue and Smart: [link]

The quality and variety of the symposium participants is great and there is lots of talk about "slippery slopes", free drivers and riders, .... you see, participants taking perspectives, positions, scales, proportions, consequences, ... and are very concerned enough to hide it and transcend....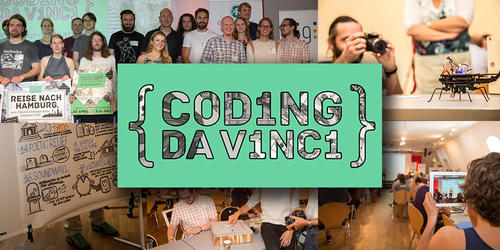 6 Jul 2015 @ 19:24
Coding da Vinci - Der Kultur-Hackathon is a community project of Deutsche Digitalen Bibliothek (DDB), Open Knowledge Foundation Germany e.V. (OKF DE), Servicestelle Digitalisierung Berlin (digiS) and Wikimedia Deutschland e.V. (WMDE).
[link]


Academy of Sciences: Originality, priority, and reputation.
Annual theme: Leibniz: Vision as ission/Aufgabe/Duty.... [link] see also last month: [link]

This was a really interesting event, it was also about schools of thinkers and that often not the thinkers clash, but the schools ! I was immediately remembered to revisit mindbugs and mindboggles: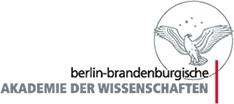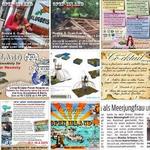 4 Jul 2015 @ 14:18
OPEN ISLAND June-July in Berlin: https://www.facebook.com/events/1585723308370262/permalink/1609276729348253/

https://www.facebook.com/multiversity check out the websites and come to the closing party July 11 in Berlin Schöneweide !

Open-Bar and -Energy: at the Open-Island co-creation camp, we play around with materials, ideas, functions and share our different knowledge and skills. TODAY, from 4-6 PM CET, we join the "Living Bridges Maker Meet" global hangout. We hope to see YOU too in the hangout (participation link will be available soon at https://www.facebook.com/groups/livingbridgesplanet/ or here) Livestream also available if you prefer to just watch. The purpose is to discuss the meaning and mindsets of "MAKERS" and see, if they are interested to connect glocally for humanitarian challenges and open-source co-creation.




Page: 1 2 3 4 5 ... 37 Older entries >>
This is Heiner Benking's News Log, a private-public diary presenting events, symposia and happenings in Berlin and elsewhere - my farings, foci, issues and concerns.
The Log links in to my work and interests and presents issues and special concern of maybe a very small group of "concerned, engaged generalist" - a Global Interest Group (GIG). This needs to be seen in contrast to the ubiquitous Specialized Interest Groups (SIGs), the "scientific" approach to organize subject areas and specialization and standardization and harmonization! of means, nomenclatures, and modes of thinking. One of my favorite stories is "Longing for Unified Knowledge" where such a "specialist" runs into the founding session of the early general systems associations, mumbling "this is not my field" (as reported by Ivan M. Havel in our ISSS Wholeness Seminar).
As a starter I also recommend to check my MINDPRINT site, where we add the need for HANDPRINTS and MINDPRINTS, as FOOTPRINTS are good to visualize and communicate numbers, densities or consumption per area, but are not sufficient to negotiate and "harmonize" across domains and communicate gains in different cultures, technologies, times,... in short: incompatible but relevant information and our work on dialog, peace, policy-making, and multi-modal, faceted issues and consequences.
What am I? This is a "well-packed" question for which I have not the or a single answer. Some People called me an in-betweener, go-getter, facilitator, hub, marvel-hero, trim-tab, bricoleur, career designeer, ....
I have not single answer as I feel we Need to walk the talk and sing and dance Life !
To nebulous an answer? I am sorry but I do not go for overclaims and oversimplifications, under-complex and over-simplistic approaches with clan-think mindsets about real issues in clear contexts!
Previous entries
2015-07-04
2015-07-02
2015-06-29
2015-06-25
2015-06-23
2015-06-20
2015-06-04
More ..

Mon
Tue
Wed
Thu
Fri
Sat
Sun
1
2
3
4
5
6
7
8
9
10
11
12
13
14
15
16
17
18
19
20
21
22
23
24
25
26
27
28
29
30